Get connected with us:
Only members of the press will get a response. For all other inquires please refer to our contact form or email hello@swipe.by
May 9, 2019
Curbside Service app SWIPEBY brings "drive-thru" convenience to local restaurants
Local entrepreneur Carl Turner launches acclaimed local start-up SWIPEBY - Winston-Salem restaurants first to offer curbside service
SWIPEBY, a new app available on Android and iOS, brings the convenience of curbside service to many local Winston-Salem restaurants. Users place an order online, drive to the restaurant and a waiter brings their food right to their car.
Winston-Salem, NC: Walmart, Harris Teeter, Chick'fil'A, McDonalds are investing billions in Curbside Service infrastructure and technology. While this trend has taken hold amongst multi-national companies, smaller local entities are becoming left behind. SWIPEBY is changing that - enabling any local restaurant to offer the same "drive-thru" convenience to their customers via the SWIPEBY apps and platform. A user places an order via the SWIPEBY app, the restaurant staff will be waiting with their food curbside. No need to grab your wallet – all payments are processed securely within the app.
Carl Turner, a Wake Forest University graduate ('17) founded SWIPEBY as the evolution of his first venture Neighborz, a "tinder for food" like app. "While launching Neighborz, we learned a lot about the real pain points in the take-out business, for users as well as for restaurants – SWIPEBY is the answer to all these problems," says Carl Turner, CEO and founder of SWIPEBY. Turner argues, "Food delivery in suburban markets, like Winston-Salem, is not only very expensive to the users but, between long wait times and cold food, can be a dissatisfying experience. While restaurants are not at fault for these third-party shortcomings, these delivery experiences can translate into complaints to the restaurant. Coupled with the already high revenue shares to the delivery platforms, we knew there had to be a better solution for restaurants." SWIPEBY charges the restaurant a lower fee and the customer nothing (no fees, no subscription).
"This is a super convenient offer for everyone, and particularly for everyone, who doesn't want to leave the car, e.g. parents with young kids, people with disabilities," says Turner. "Take-out is a struggle for most people as delivery is expensive, chain drive-thru's have generally not too healthy options and pick-up is often a challenge too: Curbside Service is a free and great alternative!"
Participating SWIPEBY restaurant include: The Loop, oSo Eats, The Quiet Pint, ISE Japanese, Firehouse Subs Mozzarella Fellas, Willows, Carmines, Coppolas, La Perlita, Kotta Japanese, King's Crab Shack, O'briens Deli, Mayberry, Charm Thai, Local 27101, Asian BBQ, Honky Tonk, Jimmy the Greek, Taqueria Guadalajara, Southern Family Restaurant, Uncle Buzzy's, Mac & Nellis, Lighthouse, Thai Harmony, Jeffrey Adams, Hutch and Harris, Burger Batch, Restaurant New York, Time Square Pizza, Grille Ville, Mystic Ginger, Los Toritos, Bib's Downtown, Burro Loco, Downtown Thai, Murphys, Chiang Mai, Downtown Deli, Don Tequila, Penny Path Café & Crêpe Shop, Midtown Cafe Cloverdale Kitchen, Washington Perk & The Olive Tree.
About SWIPEBY: SWIPEBY is a startup founded 2017 in Winston Salem, NC, by a Wake Forest graduate. SWIPEBY is available as an iOS and Android app and allows a user to place a Curbside Service or In-Store Pick-Up order at many local restaurants. SWIPEBY also offers a more visual approach to food ordering allowing a customer to swipe through a picture based menu of local restaurants, filtering for distance, price, cuisine, etc. SWIPEBY is part of the Winston-Starts incubator and is planning on expanding nationally after a successful launch in its home market Winston-Salem. www.swipe.by
Mar. 21, 2018
Neighborz Study - 45% of restaurant orders turn out different than expected | 20% off local restaurants
Neighborz is offering 20% off all dishes at more than 20 Winston Salem Restaurants
Study finds that people spend 2-5 days a year deciding what to eat. Further, 40% of restaurant guests don't understand the menu, even more find the food they get different than expected. Neighborz helps by making decision much easier and fun and providing a visual menu.
Winston Salem, NC: A Neighborz study found that people spent a total of more than two days a year deciding what to eat. In addition, it turned out that in 45% of orders, the dish comes different than expected. Neighborz further found that 4 out of 10 people have trouble understanding items on a printed menu. In order to help people make better and faster decisions, while promoting local and must-try restaurants, all dishes at more than 20 restaurants in Winston Salem are 20% off when ordered for take-out via the Neighborz app. This special offer starts on March 22nd and valid until April 8th.
Neighborz uses pictures of food and an aggregated swiping menu to help users to see each dish before ordering: "Our goal is to make people in Winston Salem aware of the great food of our local restaurants and to encourage people to try out the convenient and fun ordering through Neighborz.", says Carl Turner, CEO and founder of Neighborz.
For the promotion, all dishes at participating restaurants will be 20% discounted. Participating restaurants are amongst others: Mooney's, Hutch & Harris, Thai Harmony, Ora's Kitchen, Xcaret, Thai Sawadtee, Downtown Thai, Downtown Deli, Burger Batch, Local 27101, Mayberry, Mission Pizza, Kotta, Time Square Pizza, Murphy's, ISE, Sushi & Pho, Elizabeth's, Miss Ora's, Dynasty Asian, Bib's Downtown, Carmines.
About Neighborz: Neighborz is a startup founded in Winston Salem, NC, by a Wake Forest graduate. Neighborz makes ordering and interacting with food from local restaurants fun by providing an easy solution to the question: what am I/are we eating today? Having one aggregated menu of the best local restaurants with pictures of each item, randomly organized, allows users to swipe to the entire food offering of a community - disliking items (swipe left) and adding items to a personal wishlist (swipe right). It's like "Tinder for Food".
Winston-Salem restaurants adopt curbside service app SwipeBy
May 14, 2019
Business Journal
A Winston-Salem startup is taking the inconsistency out of the food delivery service with a new curbside pick-up app called SwipeBy.
Oct. 19, 2018
Business Journal
"These spaces don't compete for you; they leverage off of you. They open up the networks." …
More than 60 startups, emerging companies to present at CED Tech Conference
Jul, 17, 2018
WRAL Tech Wire
More than 60 startups and emerging entrepreneurial companies will be presenting at the Council for Entrepreneurial Development's Tech Conference, the CED announced Tuesday…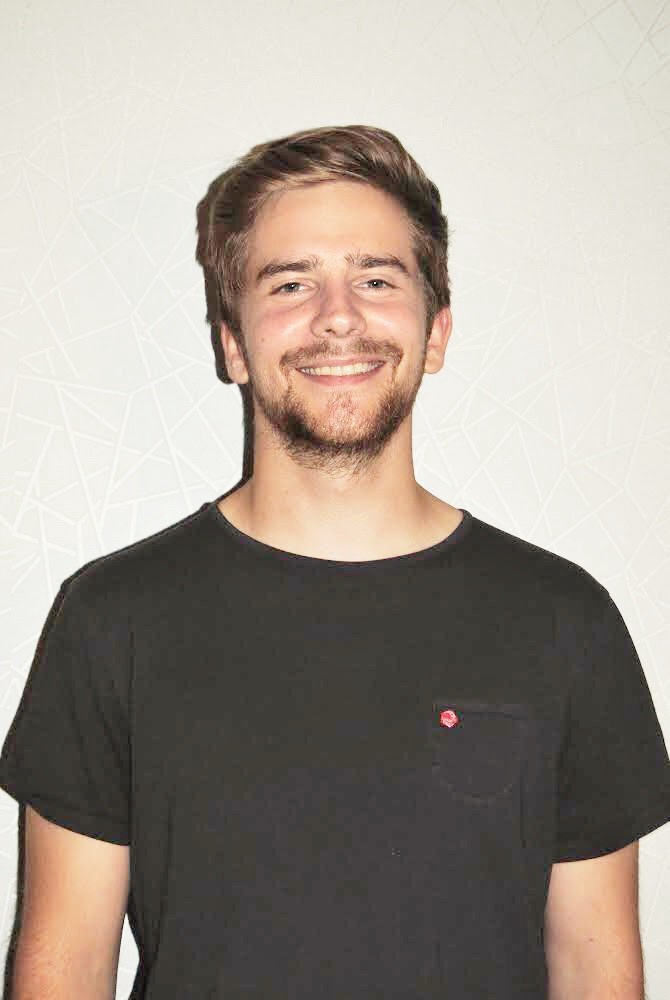 "Just Do It and Have Fun" The 5 Lessons I Learned Being a 20-Something Founder
Jul. 1, 2018
Medium - Authority Magazine
Jean: Thank you so much for doing this with us! What is your "backstory" of how you become a founder?
As many of us, I was very entrepreneurial and curious as a child and teenager trying out small business here and there. From painting some art and selling it at friends and family events at age 5 to earning some additional money with a YouTube channel at 12…
Neighborz dining app debuts in Greensboro
Apr. 12, 2018
News & Record
Swipe right to like a dish. Swipe left to pass.
Those are just some of the features when exploring dishes at restaurants on the new dining app Neighborz…
Triad-based food app Neighborz set to swipe into new city
Mar. 2, 2018
Business Journal
Neighbor Inc., the Winston-Salem startup behind the Neighborz food app, plans to expand into Greensboro by the end of next month, said founder Carl Turner…
Skin care, kombucha and a food app: Meet the 12 startups in Winston Starts' first cohort
Jan. 12, 2017
Business Journal
Winston Starts, which is prepping to open in the former GMAC building in Winston-Salem next month, has selected 12 companies to be the first cohort in its accelerator program…
Neighborz App: It's Like Tinder For Food
Dec. 5, 2017
WFMY News 2
A new app is looking to connect the community to food choices around them with a swipe right….
Six startups to divide $300,000 in grants from NC IDEA
Nov. 20, 2017
WRAL Tech Wire
Four Triangle startups are among six receiving the latest grants from the NC IDEA Foundation.
The firms will divide some $300,000 from the Seed grant program. The grants are non-dilutive….
'Tinder for food' — How this Triad startup seeks to stand out among meal delivery services
Oct. 25, 2017
Business Journal
A Triad startup has launched a meal takeout and delivery app that allows users to swipe their way towards ordering food…
Alum develops 'Tinder for food' app
Oct. 2017
WFU OG&B
With so many food options in Winston-Salem, people usually get stuck in the rut of only eating at the popular restaurants, instead of exploring other options…
New restaurant app is being test-marketed in Winston-Salem
Sep. 27, 2017
Winston-Salem Journal
An enterprising alumnus of Wake Forest University is hoping to change the way people order restaurant takeout…
7 Startups to Watch in the Triad
Sep. 12, 2017
WRAL Tech Wire
German student Carl Turner spent his senior year at Wake Forest University thinking about how people decide what to eat. His mission is to build a mobile ordering and delivery service that showcases food, rather than just a listing of restaurant names, locations and menus….